In 1961, Thomas E. Castello was a young sergeant stationed at Nellis Air Force Base near Las Vegas, Nevada. His job was as a military photographer with a top secret clearance. He later transferred to West Virginia where he trained in advanced intelligence photography. He worked inside an undisclosed underground installation, and due to the nature of his new assignment his clearance was upgraded to TS-IV.

Archuletta Mesa

He remained with the Air Force as a photographer until 1971 at which time he was offered a job with RAND Corporation as a Security Technician, and so he moved to California where RAND had a major facility and his security clearance was upgraded to ULTRA-3. The following year he met a woman named Cathy, they married and had a son, Eric.

In 1977 Thomas was transferred to Santa Fe, New Mexico where his pay was raised significantly and his security clearance was again upgraded... this time to ULTRA-7. His new job was as a photo security specialist in the Dulce installation, where his job specification was to maintain, align and calibrate video monitoring cameras throughout the underground complex and to escort visitors to their destinations.

Once arriving in Dulce, Thomas and several other new 'recruits' attended a mandatory meeting where they were introduced to the BIG LIE, that:

"...the subjects being used for genetic experiments were hopelessly insane and the research is for medical and humane purposes."

Beyond that, all questions were to be asked on a need to know basis. The briefing ended with severe threats of punishment for being caught talking to any of the 'insane' or engaging in conversations with others not directly involved with ones current task. Venturing outside the boundaries of ones own work area without reason was also forbidden and, most of all, discussing the existence of the joint Alien/U.S. government base to any outsider would generate severe and, if necessary, deadly repercussions.

Thomas did his job as his superiors demanded. At first his encounters with actual gray and reptilian beings in the base were exhilarating, but soon he became acutely aware that all was not what it appeared to be.

Thomas slowly began to sense that there was an underlying current of tension existing between some of the personnel and himself. Once in a while he would walk around the corner, interrupting serious discussions between coworkers and, as Thomas was a security officer, these talks would die off into a short murmur and individuals would part company.

One particular part of his job was to go into various areas of the base and align the security monitoring cameras when it was necessary. This afforded him the opportunity to venture out and witness things that would stagger the imagination.
Below are two photos reported to be of Dulce that Castello took in secret of the base. (Real or not they are fascinating)
Later he was to report seeing laboratories that investigated the following:

* Auraic energy fields of humans;

*Astral or spirit-body voyaging and manipulation;

*Psi studies;

*Advanced mind control analysis and application;

*Human brain memory recognition, acquisition, and transfer;

*Matter manipulation;

*Human/alien embryonic cloning;

*Rapid human body replicating by use of energy/matter transfer [complete with an individuals memory from the computer memory banks] and other scientific advances.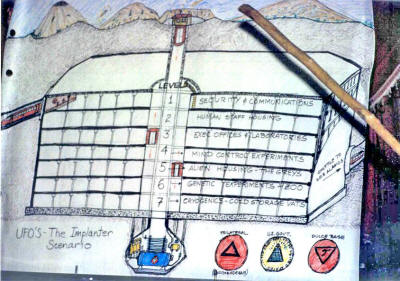 Dulce Levels and Symbols
Once in a while Thomas would see some of the horrifying genetic creations that were housed in separate sections of the base.

These, he knew, couldn't have had anything to do with mental illness or health research. Thomas didn't want to look any further. For every time he discovered more pieces to this underground maze, it became more and more overwhelming to accept. His curious mind, however, implored him to search for the truth regardless of his own desire to turn away in horror.

One day, Thomas was approached by another employee who ushered him into a side hallway. Here he was approached by two other gentlemen that whispered the most horrifying words... the men, woman AND CHILDREN that were said to be mentally retarded were, in fact, heavily sedated victims of ABDUCTION. He warned the men that their words and actions could get them in big trouble if he were to turn them in. At this, one man told Thomas that they were all observing him and noticed that he too was 'uncomfortable' with what he was witnessing. They knew that Thomas had a conscience and they knew they had a friend.

They were right, Thomas didn't turn them into his commanders. Instead, he made the dangerous decision to quietly speak with one of the caged humans in an area nicknamed "Nightmare Hall". Through their drug induced state, he asked their name and their home town. Thomas discreetly investigated the claim of this 'insane' human during his weekends out of the facility. He discovered through his search that the person had been declared missing in their home-town after vanishing suddenly, leaving behind their traumatized families, who followed dead ends and trailed flyers.

Soon he discovered that MANY of the hundreds, perhaps thousands of men, women and children [from ALL AREAS OF THE WORLD] were actually listed as missing or unexplained disappearances. Thomas knew he was IN OVER HIS HEAD and so were several of his co-workers. All he could do, until somehow the situation changed, was to be alert and extremely guarded with his thoughts. The gray aliens' telepathic capabilities allowed them to 'read' the minds of those around them and if he revealed his intense anger, it would be all over for him and his new friends.

In 1978, tensions within the Dulce base were extremely heightened. Several security and lab technicians began to sabotage the genetic experiments. Increasingly frail nerves and paranoia finally erupted into what is commonly referred to as the Dulce Wars.
In 1979 the intense pressure that was brought upon Thomas in his job finally made him break the code of silence. He told his best friend, by a hand passed note, that he was working in a sub-surface, huge installation outside of Dulce, New Mexico.

He told his friend that he was working side by side with Gray aliens that consider themselves native Terrans and that the upside-down black triangle with the inverted gold colored T inside it was the insignia of the project.

Thomas knew that he had to leave the job for his own peace of mind, however now that he knew the truth about the abductees being held below, it would be almost impossible to live a 'normal' life. He would always be under observation and threat until the day he died. He also was aware of the fact that old age may not be his downfall. His demise could easily be expedited by certain individuals.

After one of his weekends away from the facility, he decided to Return to work. This time through one of the less guarded air shafts, unannounced and into the base by way of secret passages. Once inside, he preceded to appear as if he was working his normal duties while taking charge of every thought as he passed by Grays.

During this time inside the base, he removed still photographs of the facility and treaties signed, with authentic signatures, between California Governor Ronald Reagan, several other individuals and the Grays. Thomas also managed to retrieve a 7 minute black and white surveillance video of genetic experiments, caged humans, Grays, as well as schematics of Alien devices and complex genetic formulas.

These items, he felt, were not only his chance to a seat at the bargaining table when the need arose, but also they were things that the public needed to know about.

He made copies of the films, photo's and paperwork, packed several 'packages' and instructed several different people who he trusted explicitly to bury or hide them until the right time.

He was then made aware through certain sources that his wife, Cathy, and son, Eric, had been forcibly taken from their home to an undisclosed underground facility for 'safe holding' until he decided to Return with the items. At this point, he knew that even IF he did Return everything to the Dulce commanders, that his wife and son were probably NEVER going to be the same again [if Returned at all] after being manipulated by aggressive mind control.

He also knew that he AND his family would most DEFINITELY become permanently missing due to some tragic accident. Thomas was at zero option. He quickly dissolved into a lonely life on the run. From state to state, border to border, motels to sofa's.

Always looking behind him and trying his best to look ahead...
There is little or no information about what happened to Thomas, if he simply disappeared, was killed, or as one report stated, he was living secretly in Europe to avoid and evade the threats against he and his family. An interview was conducted about his time at Dulce, and I have added that here to my blog as ell, it is a bit annoying as it is read by text to speech program...and the reason for the interview was that Thomas Castello was dying of cancer.